Sentiment again a very useful warning signal for Bitcoin price
BittsNews
1 min

read
1726
In this post we are looking at recent social media sentiment data for Bitcoin. Sentiment is determined with machine learning from analysis of texts in social media posts about Bitcoin.
By analysing first the sentiment on the daily basis we notice that it had a very strong spike a few days ago: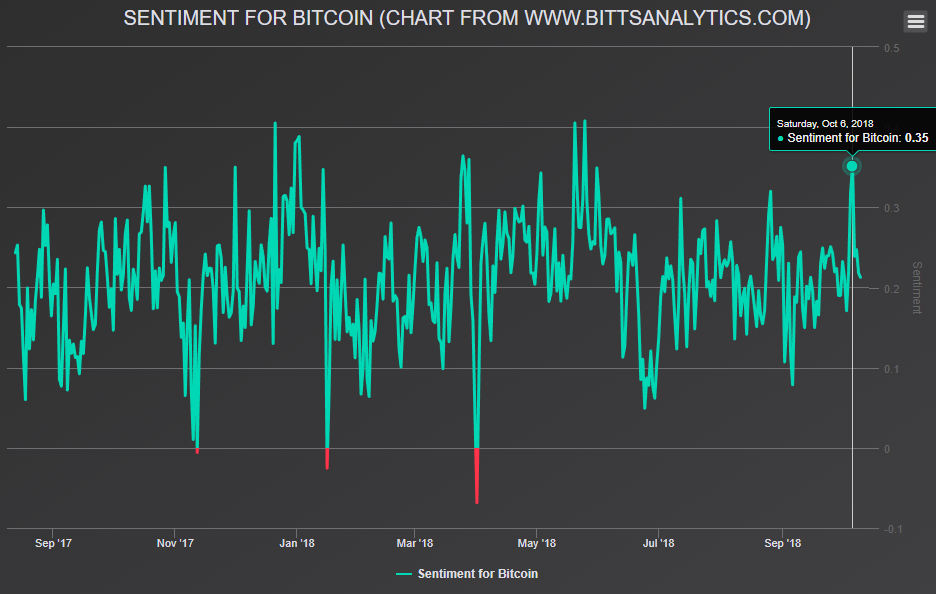 For those who are reading our blog posts over the last year, this usually means a major price decrease in the near future. For previous such examples of Bitcoin falling after reaching high levels of sentiment see e.g. one of our previous blog posts on this topic:
Bitcoin again falls after reaching sentiment high – for the fourth time the warning was correct
We have recently introduced an even more detailed sentiment analytics, on hourly level. If you examine the picture of hourly sentiment:

you will notice that although the prices were relatively high the sentiment was really on the lower part of historical range for the last 10 days. Just before the price fell, it was again near the trough. Especially concerning was also the development days ago when the hourly sentiment reached record levels without any major movement in price itself.
Our sentiment analysis tool was thus again proven extremely valuable for market timing. If you want to know more about it read our other blog posts or subscribe at:
Related posts
BittsAnalytics
BittsAnalytics is an advanced data and analytics platform for cryptocurrencies.
Learn more