Alpha Generating Signals from Blockchain Analysis of Bitcoin Cash
BittsNews
2 min

read
1428
Our platform BittsAnalytics has recently introduced another advanced feature for analysis of cryptocurrencies – Blockchain Analytics. For main cryptocurrencies, such as Bitcoin, Bitcoin Cash, Ethereum and main ERC-20 based tokens we are analyzing the changes in holdings of top token holders. Our research has shown that such changes can have a high impact on prices and this led us to include blockchain analysis to the selection of our cutting edge tools for investors in digital assets.
In this blog post we would like to show you an example of impact of changes in top token holdings on  subsequent price developments. As the Bitcoin Cash has dominated the recent news with its hard fork, we decided to focus on this particular cryptocurrency.
Over the summer there were several examples of large reduction among the top 10 non-exchange token holders. Often this means that the holdings are moved to exchanges and will be soon sold, resulting in selling pressure. For example, on 21st June 2018, there was a large reduction in holdings of one of the largest addresses at the time:

In seven days immediately after the aforementioned balance reduction, the Bitcoin Cash price collapsed from 874 USD to 660 USD for a negative return of -25%. In the same period Bitcoin lost less than 2%, leading to +23% of alpha for the trade based on this blockchain analysis.
If you are interested in using blockchain analytics for generating alpha in your digital assets trading please contact us at [email protected]
An example screenshot from the platform showing evolution of top 20 holders for Bitcoin with exchanges separately denoted: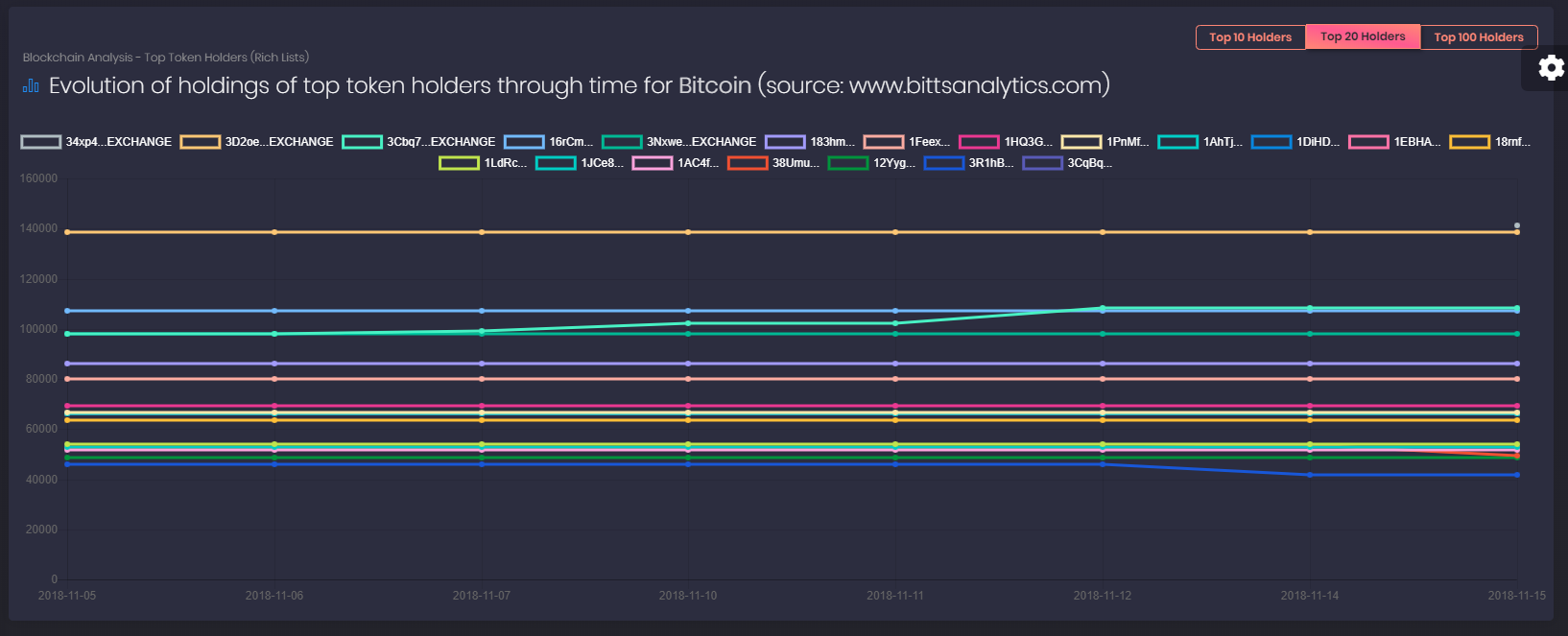 Related posts
BittsAnalytics
BittsAnalytics is an advanced data and analytics platform for cryptocurrencies.
Learn more