Social Media Sentiment Signal calling intermediate bottom for Bitcoin at 3700 USD
BittsNews
1 min

read
2527
BittsAnalytics provides its users with real-time social media sentiment, calculated with machine learning from social media texts about individual cryptocurrencies. Social media sentiment has proved as a very valuable signal many times in the past and again in recent downturn, effectively signalling intermediate bottom at 3700 USD.
There were several days of severe negative social media sentiment for Bitcoin during recent correction, as evident from this picture, showing daily social media sentiment for Bitcoin: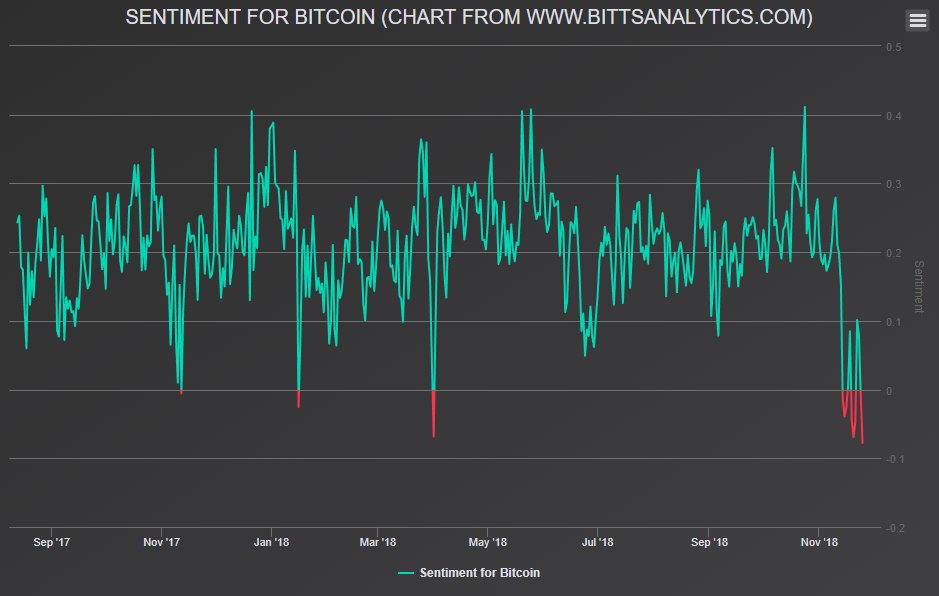 Similar picture was seen for social media sentiment on hourly level.
After the first surge on October 22nd the price remained first flat and then fell after retreat in sentiment. Yesterday however came a second even stronger sentiment surge when Bitcoin was at around 3700 USD and this sentiment surged to new intermediate heights. Unlike previous surge, the positive sentiment trend persisted this time and Bitcoin price also followed afterwards.

Social media sentiment was thus again proven very valuable as a market sentiment indicator. It is available as part of our Advanced subscription, more information is available at:
https://www.bittsanalytics.com/subscribe.php
Social Media Sentiment also flashed warnings with Bitcoin at 6500 USD, you can read more in our previous blog:
Warning from our market sentiment indicator was again correct – flashing warnings with Bitcoin at 6500 USD
Related posts
BittsAnalytics
BittsAnalytics is an advanced data and analytics platform for cryptocurrencies.
Learn more