Shopify Stores in Canada
BittsNews
2 min

read
308
In this analysis we will be examining the Shopify stores in Canada from different perspectives.
First let us look at the growth. Shopify stores have seen incredible growth in the Canada.
See this chart that is showing the new Shopify stores started by quarter: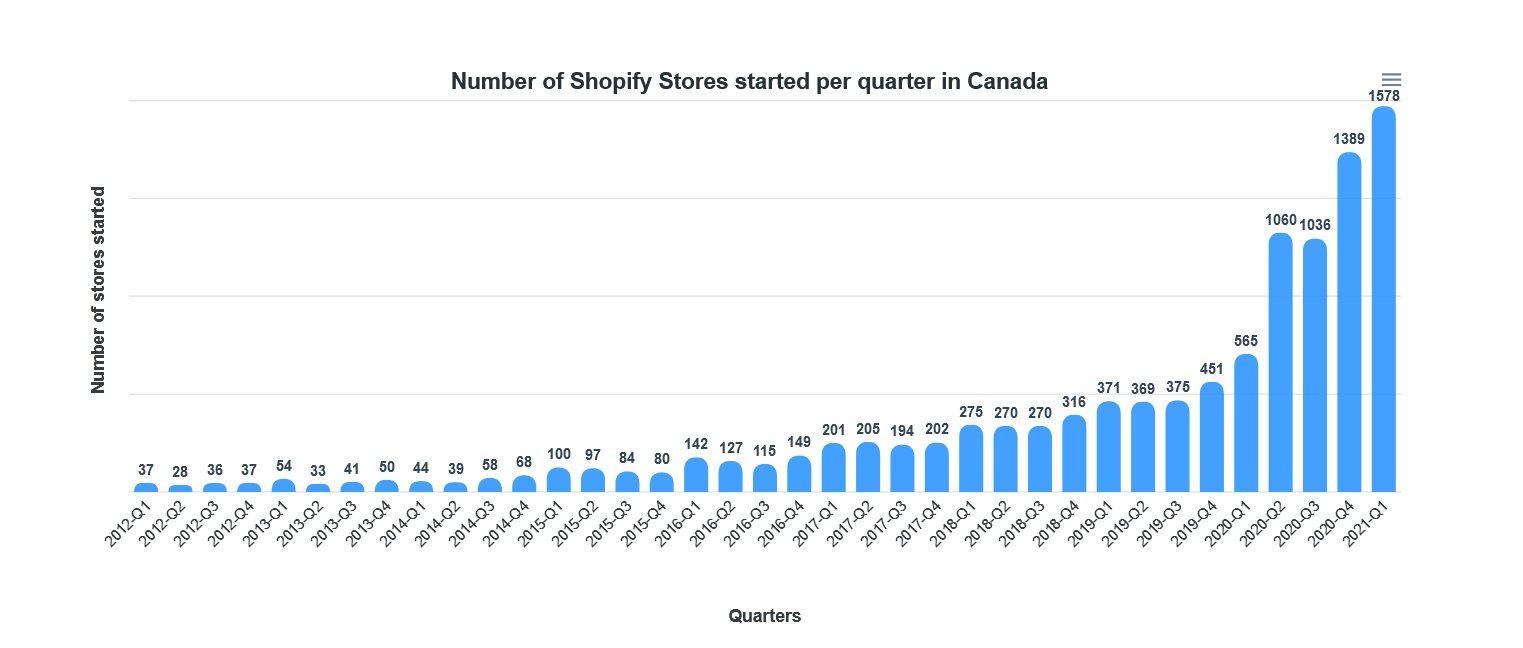 and another chart showing the cumulative number of Shopify stores in Canada.
It was obtained from this excellent website which tracks statistics on Shopify stores in different countries-> Shopify stores in Canada.
Next, let us look at which categories are most popular for Shopify Stores in CA.
The top categories are Apparel & Accessories, Home & Garden, Health & Beauty, Food, Beverages & Tobacco and Hardware.
There are more than 15,000 stores in the category of Apparel & Accessories.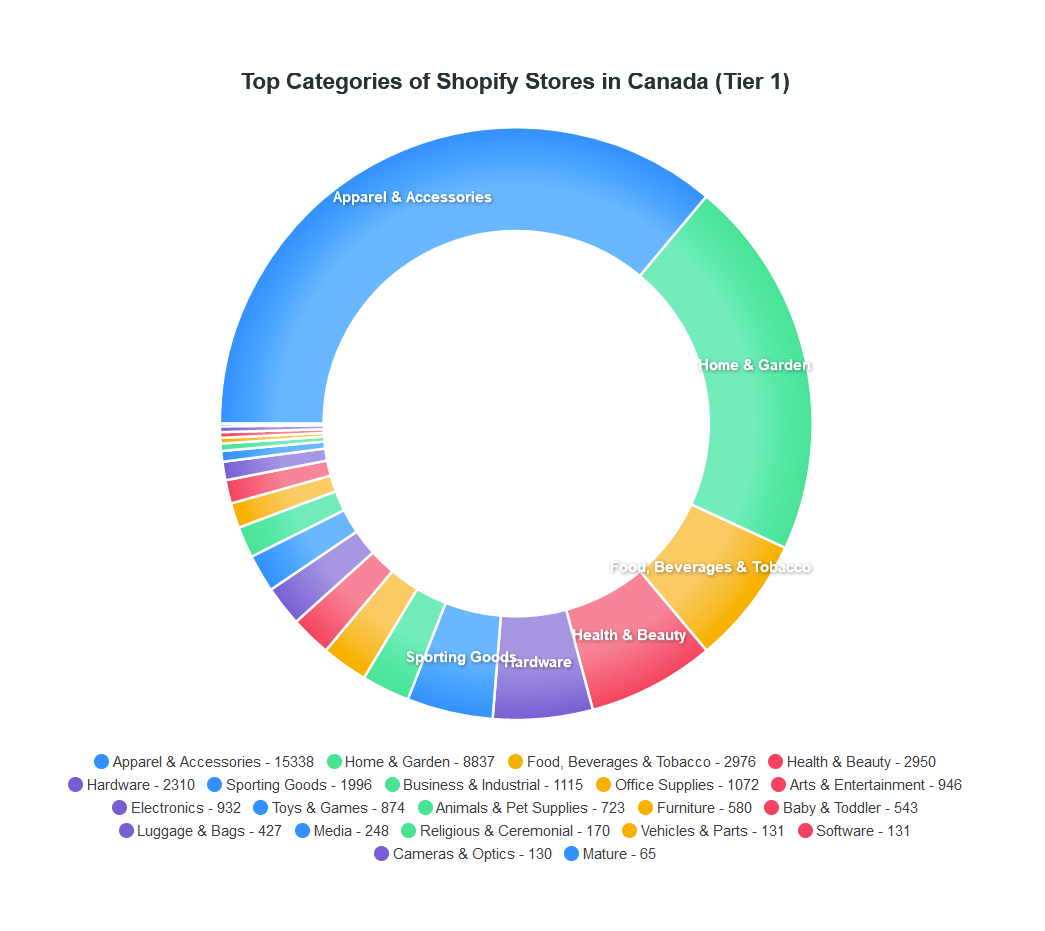 ]
If you want to know more information about Tier 1 categories you can click on respective links and get more info, e.g. this is for
Apparel & accessories:
https://www.onlinestores.ai/shopify-stores-Apparel%20&%20Accessories/CA/8
We all know social media use is important to get new customers. The onlinestores.ai link provides us with info on social media use as well: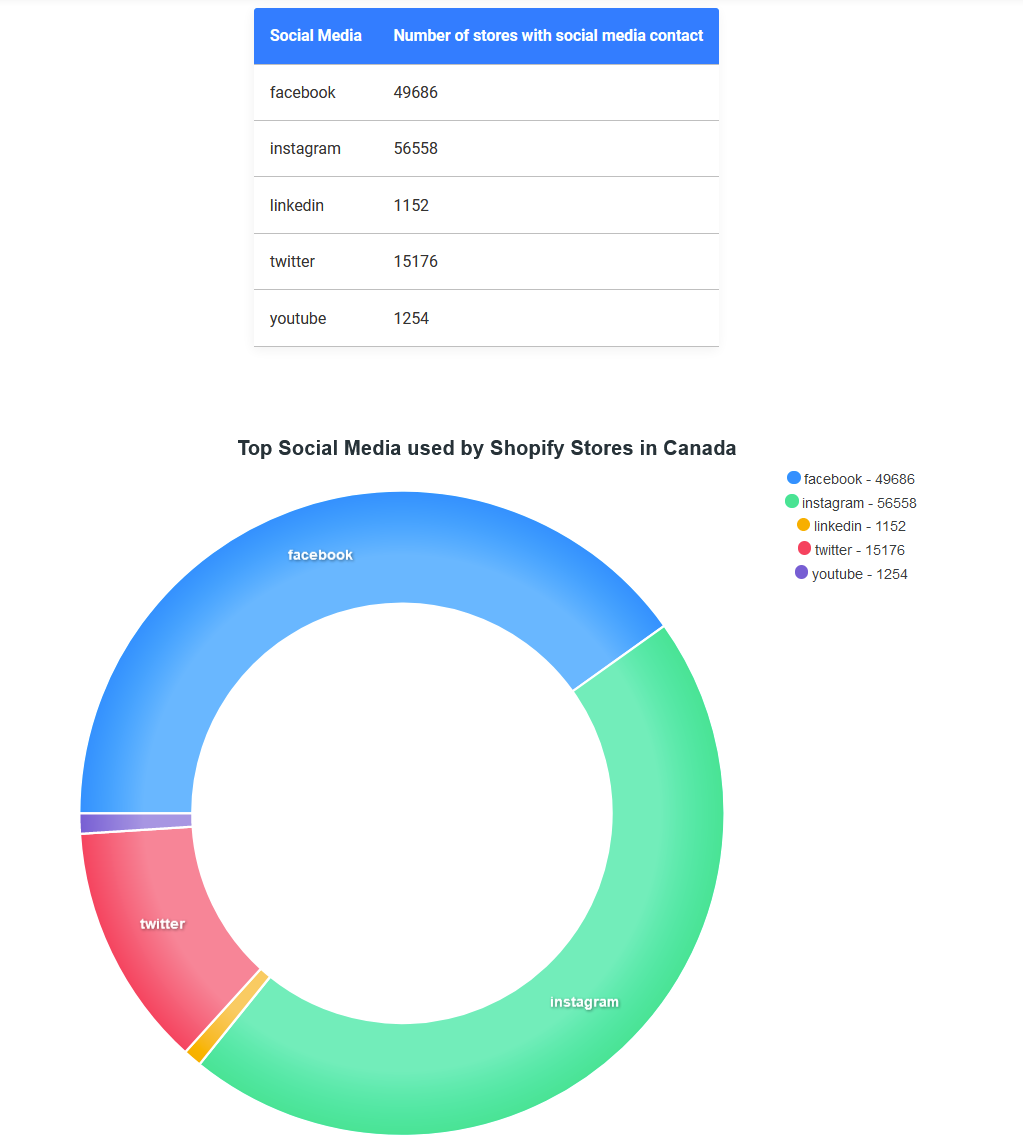 Facebook and Instagram are by far the most used ones, followed by twitter and youtube, whereas linkedin seems to be the least used.
Online stores also mostly have email and phone added to their website, though phone is used 3x less than email. Which indicates that most business is conducted via email, rather than phone.
Somehow expected.


The website also provides info on popular stores in terms of traffic, these are the most popular stores in Canada: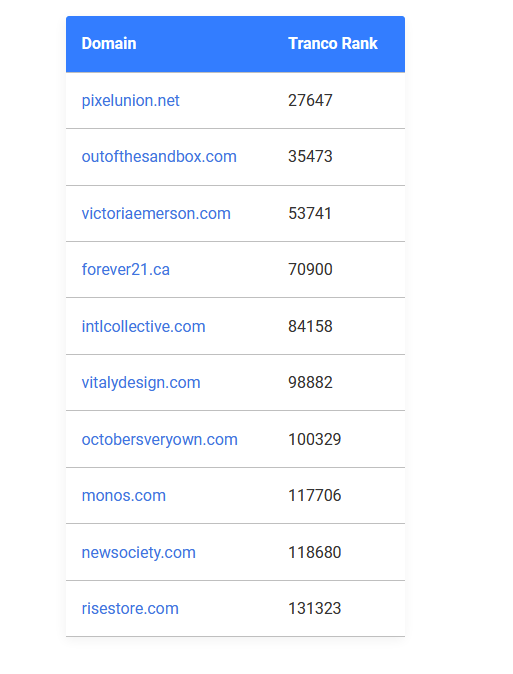 A nice feature of analysis is estimate of the backlink strength of online stores. So you have a bit of estimate on how difficult are different categories. The website uses OpenPageRank for this purpose
from OpenPageRank website: https://www.domcop.com/openpagerank/.
Here is the chart of distribution over the OpenPageRank


An important information about online stores is how many products are being sold by the store. There is a stat which shows how many stores sell how many products, which is kind of useful to know if you are opening the online store and not sure how many products are offered by competitors.


The most popular Shopify stores in United States are located in New York City, Chicago, Las Vegas, Miami, Los Angeles, San Francisco, Atlanta and Seattle. This comes as no surprise since these cities are known for their booming commerce and wealth of creative entrepreneurs.
This analysis has been performed with help of various tools including https://bestseoniches.com/ and https://reverseiplookupapi.com/.
Related posts
BittsAnalytics
BittsAnalytics is an advanced data and analytics platform for cryptocurrencies.
Learn more