Cryptocurrency Trading Strategy
Optimal cryptocurrency trading strategy is one that utilizes all the data, traditional and alernative that are available and could be surmised to have an impact on the cryptocurrencies prices. After many years of experience in trading cryptocurrencies, we have identified the following sets of data as very valuable when constructing a cryptocurrency trading strategy:
social media sentiment

social media mentions

technical analysis

price resistance and support bands

blockchain analytics, in particular movements in rich lists of tokens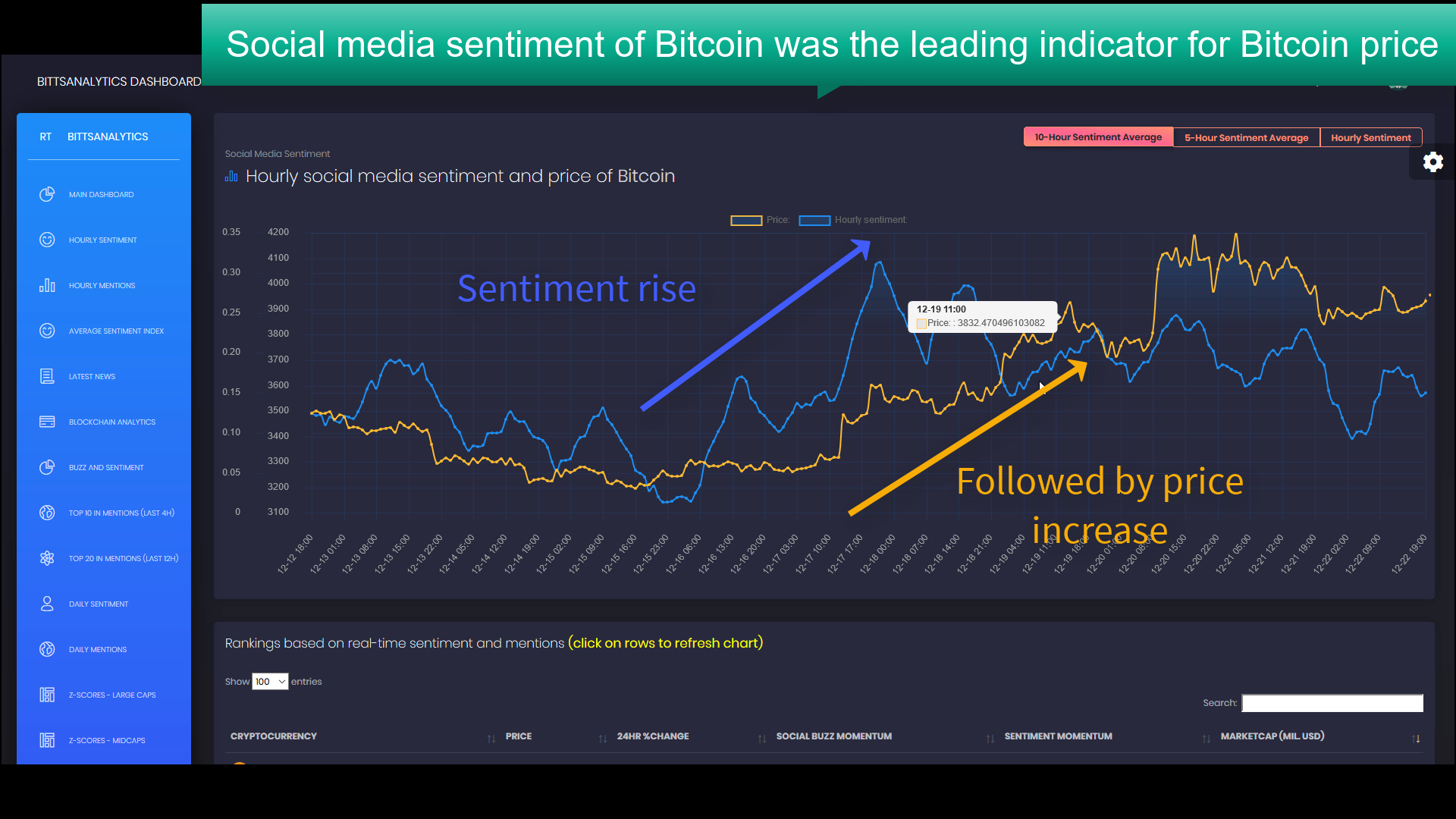 Real-Time Social Media Sentiment
With millions of social media posta published each day, it is not only important to know that there is talk about them, but also what is the sentiment of the talk. Do people write positively about Litecoin in a given hour or negative. That is what the real-time social media sentiment data answers. It is obtained by tracking texts of social media posts on Twitter, Reddit, Telegram and other social media posts and then using machine learning to determine its sentiment polarity (0 or 1). All the sentiments are then averaged for a given latency, for example an hour and then plotted or used as an API. This is one of the premier features that BittsAnalytics provides you with. For concrete cases studies of using real-time social media sentiment as a cryptocurrency trading strategy, read our blog posts below:
Start exploring
An alternative view of approaching or constructing a cryptocurrency trading strategy is to look at the historical trading volume. One can expect that if the price is in a given narrow price range for a long time and with considerable trading volume, that there will be many limit orders in this range. They can be stop loss orders or profit taking orders. It is expected that such ranges will form a considerable support level when the price approaches from above or considerable resistance levels when prices approach them from below. This is precisely what our BittsBands try to capture. And they have been working extremely well, for case studies read our blog, an example of application can be found here: BittsBands excellent predictor of price movements.
Cryptocurrency Technical Analysis
Another important class of a cryptocurrency trading strategy is the technical analysis. While interesting results can be obtained with technical indicators such as RSI or by plotting trend lines and looking for divergences, what we have in practice found out is that using chart patterns can work exceptionally well. BittsAnalytics is one of the few cryptocurrency platforms that automatically detect main technical chart patters, such as double top, double bottom automatically. This is done on a daily basis for all coins. No more manual looking for that elusive top or bottom pattern. Technical analysis is a cryptocurrency strategy that works well in many cases, as an introduction please read our blog post about applying to Bitcoin: Double top pattern recognition worked greatly for the second time in a row flashing warning for Bitcoin at 9800 USD.
Mentions and Buzz on Social Media
Cryptocurrency prices are driven like many other prices by supply and demand. But how can one gauge the level of demand at a particular time you may ask. Simple, one method is to simply look at the interest a particular currency is generating in social media and in news. This is what we are specialising at BittsAnalytics. We track millions of social media posts each day and calculating social media buzz for cryptocurrencies in real-time. For a case study of applying cryptocurrency social media mentions analysis to cryptocurrencies, please read an example blog post about application to Ripple: Ripple up more than 100% since a spike in social media mentions.
About Us
BittsAnalytics is an innovative data and analytics platform for stocks and cryptocurrencies from company Alpha Quantum.
Website: www.alpha-quantum.com
Company Contacts
Alpha Quantum
Komenskega 40, 1000 Ljubljana
Slovenia (EU)