BittsAnalytics
is an advanced Big Data and AI analytics platform for stocks, ETFs and cryptocurrencies.
It provides you with fundamental analysis, social media analytics, deep learned price resistance bands, tracking portfolios, alerts, automatically detected chart patterns, trading signals, charts and other tools.
BittsAnalytics is trusted by many individual investors as well as many global hedge funds.
Special Offer Alert: On or before 31th March we will launch a major product as part of BittsAnalytics, ICO analytics for 600+ ICOs. Existing premium subscribers or those who subscribe to current premium BittsAnalytics (covering coins already quoted on exchanges) prior to launch of ICO Analytics will get it at no extra charge. For later subscribers it will cost the same as current premium .
Examples of using BittsAnalytics
We use social media sentiment determined with machine learning from social media posts about individual cryptocurrencies as source of trading signals. Read about more than 30 examples of past successful trades based on our social media data at our blog:
read more
.
In times of stress and losses on the markets it is even more important which cryptocurrencies you are invested in. BittsAnalytics offers its users powerful comparison analytics tools for better relative selection. Read an example of how we used these tools for recent relative selection between Ethereum and Bitcoin in our blog post:
read more
.
Our BittsAnalytics tools allows you to run a historical simulation of how would your current portfolio perform historically. This is an important analytics tools as it provides you with more information about potential losses during times of adversity. Learn more about historical simulation by clicking
here
.
Risk Management is the cornerstone of modern portfolio management. BittsAnalytics provides its users with enterprise risk management features for their portfolios, such as Value at Risk, Maximum Drawdown and other metrics. It helps you identify the risks and statistically estimate potential losses. Learn more by clicking
here
.
One of the powerful investment tools that will be integrated in BittsAnalytics is Mean CVaR portfolio optimisation. Among others, it will allow the use of dynamic allocation which is ideally suited for periods in markets that also include substantial amount of time in either sideways or down direction. You can read introductory post about the extraordinary performance of Mean CVaR dynamic allocation in our blog post:
read more
.
Turn our cutting edge data and tools into your profits
Watch video of platform in use (for selected features)
We believe that cryptocurrencies and blockchain technologies will become a fundamental part of our societies. For investors in the cryptocurrencies there is however a lack of sophisticated solutions which would help them with their investments and which some of them are accustomed to in the traditional finance. The need for such software is already increasing with the emergence of crypto funds management and with institutional investors entering this sector. We decided to develop such a solution, BittsAnalytics, as we believe we are uniquely positioned to do so on the basis of our years of experience in traditional finance and vast experience in development of enterprise software solutions in all areas of asset management.
BUILT ON DEEP EXPERTISE
A unique combination of advanced frameworks (machine learning, deep learning, NLP, etc.) applied on the Big Data of stocks, ETFs and cryptocurrencies
BittsAnalytics is based on a wide set of software solutions developed by our company Alpha Quantum and used on billions USD of assets by large and regulated financial institutions.

These technologies were integrated into BittsAnalytics allowing us to offer our users a wide array of advanced features:
Personalized Portfolios

Sentiment and other Social Media Analytics

Interactive Charting

Artificial intelligence algorithms applied on pricing and news data

Alerts based on pricing, volume and sentiment data
Portfolio Optimisation (Mean Variance, Mean CVaR)

Performance measurement

Advanced Technical Analysis

Digital Aisistant AiDA

Risk Management
Explore More
Subscribe Now
Why BittsAnalytics
Price runs often start with social media interest and you can detect such surges of interest ahead of others if you use BittsAnalytics. We track tweets mentions of 200+ cryptocurrencies in real-time.
Have better information than others.
Prices of cryptocurrencies are often driven by sentiment. If you subscribe to BittsAnalytics you can see sentiment surges and other changes for 200+ cryptocurrencies.
Be ahead of others.
Would it not be great if you could just click on a time point in chart and instantly get themes and topics discussed at that time. For almost any cryptocurrency.
With BittsAnalytics you can easily compare hundreds of cryptocurrencies in terms of returns, sentiment, social media mentions, trading volume, volatility and other quantities.
Have better data than others for better insights.
Are you active in ICO market and would like to know the current sentiment, buzz about it or what are the hottest ICOs discussed just now.
Our digital assistant delivers you detailed and insightful analytical reports on almost any important cryptocurrency. Have better tools for better returns.
Prices of certain assets are importantly driven by the sentiment and hype about them. By subscribing to BittsAnalytics you can easily access sentiment data for almost any stock, ETF and digital asset in real-time and for the recent past. We also provide you with powerful analytical tools so you can easily get important insights from our sentiment data. For examples of how real-time sentiment can serve as trading signals (what we call "BittsSignals") please visit our blog posts about BittsSignals.
We are using machine learning to calculate sentiment of millions of social media posts and aggregate sentiment data on hourly and daily basis for individual stocks, ETFs and cryptocurrencies.
Start exploring
We have built a proprietary innovative system for assessing potential bands of resistance using deep learning applied on a vast amount of data we have at our disposal - pricing, trading, social media analytics and news data. Bittsbands analytics is integrated in our platform helping you analyze possible price movements in different bands. Bittsbands have proven excellent in analysing what may happen with future prices. For an introduction see e.g. our blog post about recent application on Bitcoin: BittsBands excellent predictor of price movements.
We are using deep learning on a vast and unique sets of data to assess potential bands of resistance in prices and help you in estimating possible price paths.
Subscribe Now
Advanced Technical Analysis
We have built an advanced system for automated detection of chart patterns and integrated it in our platform. If you do not want to lose your time each day looking for new chart patterns on thousands of stocks, ETFs and cryptocurrencies but want to have it available each day automatically then BittsAnalytics platform is the right solution for you. For patterns we will also provide you with advanced statistics such as risk reward ratios.
We are using machine learning to automatically detect complex chart patterns. Subscribe to our platform and let us do the chart patterns searching for you.
Subscribe Now
Mentions and Buzz on Social Media
Prices of many assets are influenced by the hype and number of social media mentions about them. Often it is very worthwile to know which stocks, ETF or cryptocurrencies are the main talk of the financial world or which are experiencing a sudden surge in interest. You can get this information with our BittsAnalytics.
We are calculating number of mentions for stocks, ETFs and cryptocurrencies in social media to find surges in interest as well as deliver historical comparisons and analysis. BittsAnalytics can thus serve as a very effective social media tracker for stocks, ETFs and cryptocurrencies.
Market Indicators
Get warning signals on excessive optimism in markets
Downturns or crashes have been a constant companion of cryptocurrencies markets since their inception. BittsAnalytics provides its users with market indicators which can serve as warning signals. Read about our Market Sentiment Indicator which warned us at the highs as well as before the latest downturn in our blog post: read more.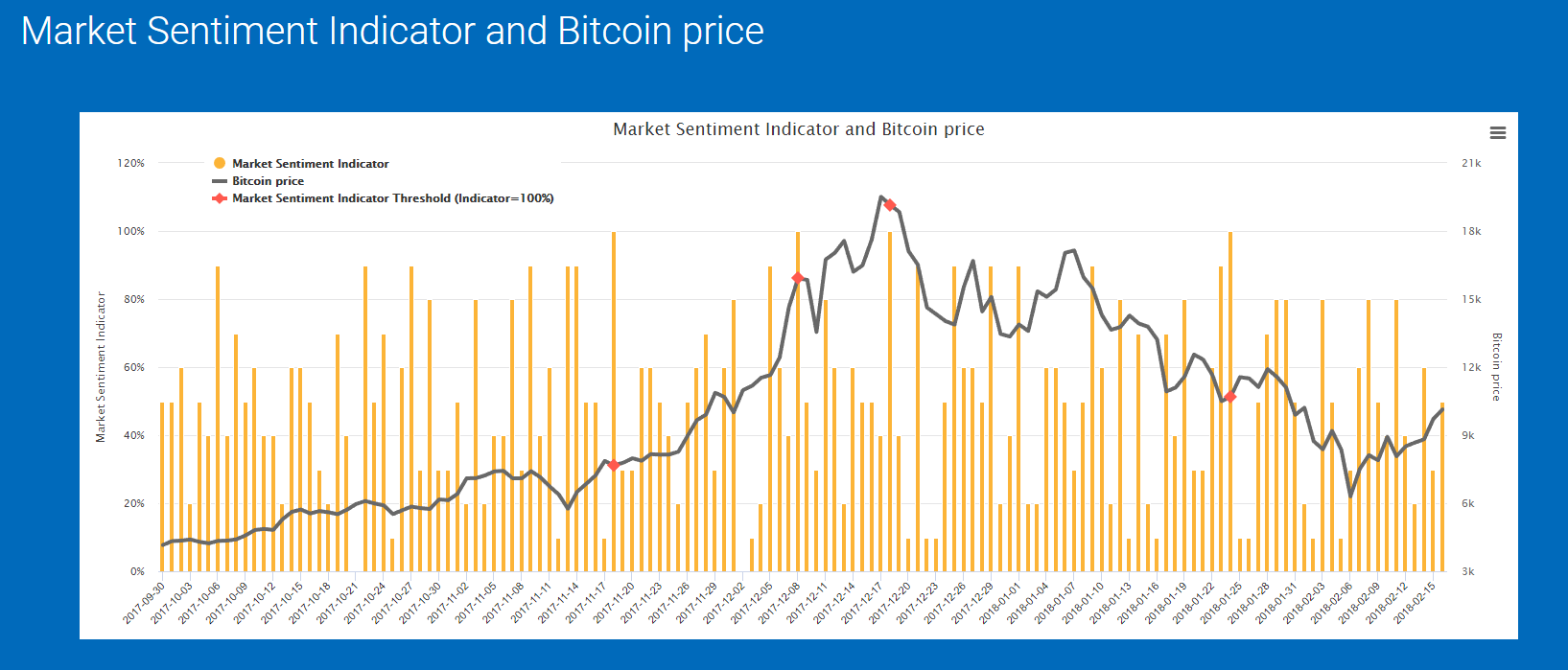 Market Indicators
Get warning signals on excessive optimism in markets
Downturns or crashes have been a constant companion of cryptocurrencies markets since their inception. BittsAnalytics provides its users with market indicators which can serve as warning signals. Read about our Market Sentiment Indicator which warned us at the highs as well as before the latest downturn in our blog post: read more.
Start exploring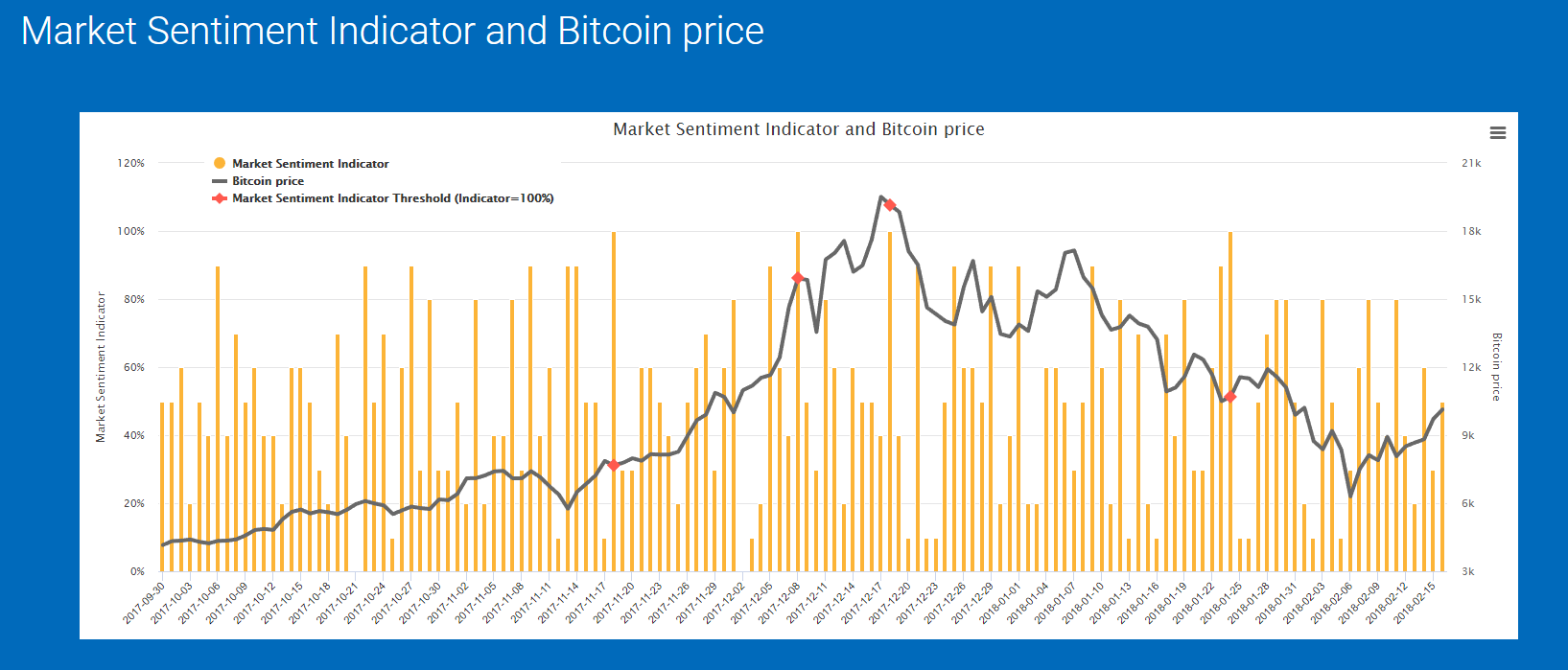 Tagclouds and Themes
With ever increasing number of stocks, ETFs and digital assets it is increasingly hard to keep track of what is going on with them. We are generating tagclouds and themes with similarity for these assets to allow our users to keep up with their holdings more easily. We generate tagclouds and similar topics on daily and also on hourly basis. For an example of using tagclouds and NLP analysis for better trading, please read our blog post here.
Start exploring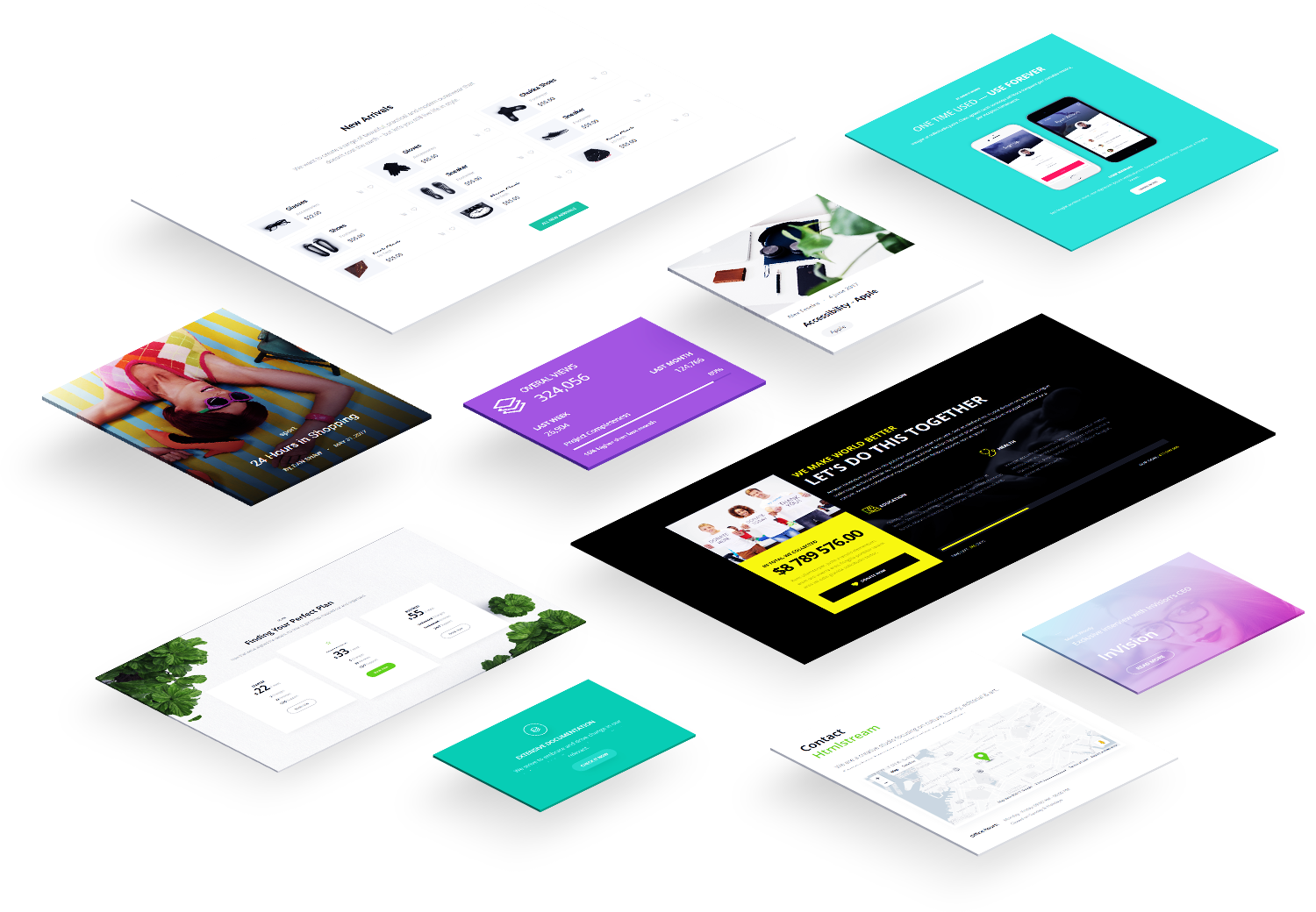 Interactive Charts
Get themes discussed with just a click on the chart
In the volatile world of cryptocurrencies one often sees a sudden surge in price or a large crash and would like to instantly know what are topics or themes that are currently discussed about this cryptocurrency without having to go on a time-consuming search of many posts in news or social media. Sometimes a fast access to such information can save you a lot of money. For examples of how you can interactively access tagclouds and themes please visit our blog posts on this topic.
BittsAnalytics users can do precisely that by just clicking on a point in price, sentiment and other charts and instantly get themes discussed at just that hour or day for almost any important cryptocurrency.
Start exploring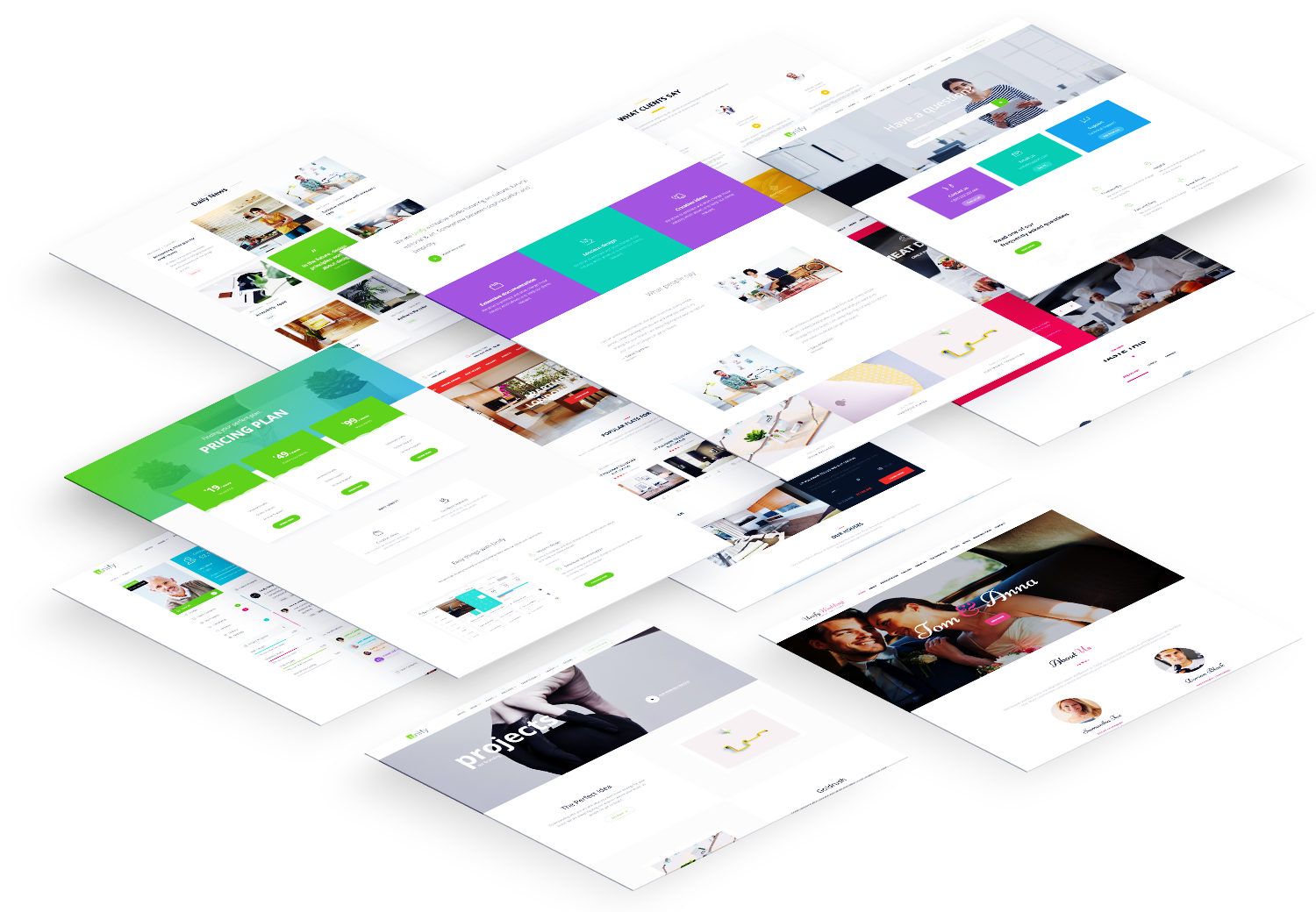 150
main Cryptocurrencies
500.000+
Sentiment and other data points generated (per month)


100+ million
combinations of social media posts - cryptocurrencies analysed (per month)
Coin Analysis with Bitts Ranks
Carefully Customized Libraries
With hundreds of cryptocurrencies and many data about them (returns, volatily, sentiment, trading volume among others) one sometimes wishes to have combined numbers to easily compare all cryptocurrencies. We have come up with such numbers, Bitts Ranks to accomplish just that and allow you easier coin analysis. They are based on combined Z-Score which really means that it is an average of how much each cryptocurrency is above or below an average for each category such as returns, sentiment, dilution etc. We currently calculate three types of Bitts Ranks - for momentum, sentiment and buzz and plan to add additional ones e.g. fundamental.
We want to use Bitts Ranks to bring more transparency to crypto analytics. By using BittsAnalytics you can easily see which cryptocurrencies are top in categories of momentum, sentiment, buzz and others.
Start exploring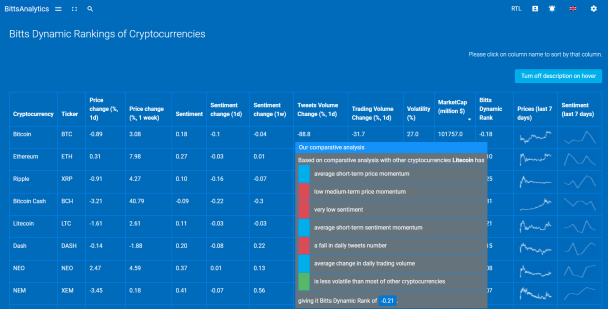 Performance measurement
BittsAnalytics provides its users with a diverse set of metrics and indicators for a better assessment of their portfolio performance. Performance is evaluated both on absolute and relative basis (with respect to our indices). Indicators include Sharpe ratio, Excess return, Sortino, Information ratio and many others.
Start exploring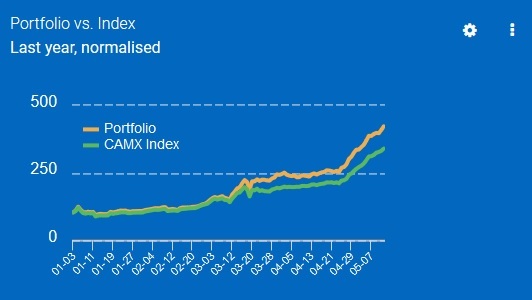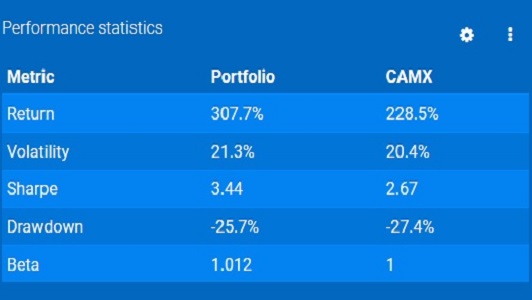 Risk Management
Risk Management is the cornerstone of portfolio management and BittsAnalytics allows its users to sophistically measure and understand the risks in their portfolios. Risk is measured with volatility, Value at Risk (VaR), CVaR, Maximum drawdown, Downside deviation and many other metrics. Risk attribution is used for inferring risk contributions of individual cryptocurrencies to the portfolio total VaR, taking into account correlations and differing volatilities. For evaluation of influence that extreme scenarios can exert on portfolio value one can perform stress testing or Monte Carlo simulations.
Start exploring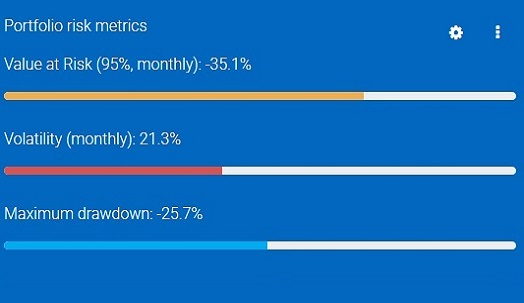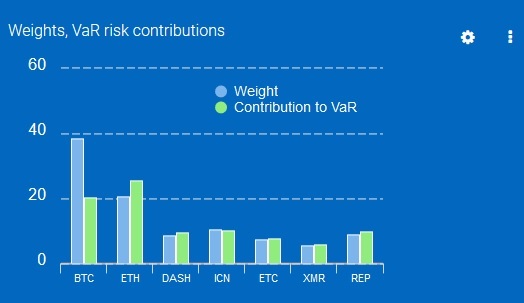 Digital Assistant AiDA
We are building an artificially intelligent digital assistant - AiDA for the world of cryptocurrencies. AiDA is currently providing users of BittsAnalytics with summarised reports of cryptocurrencies. It is continuosly learning using deep learning on a large amount of big data that we are analysing and generating.
Start exploring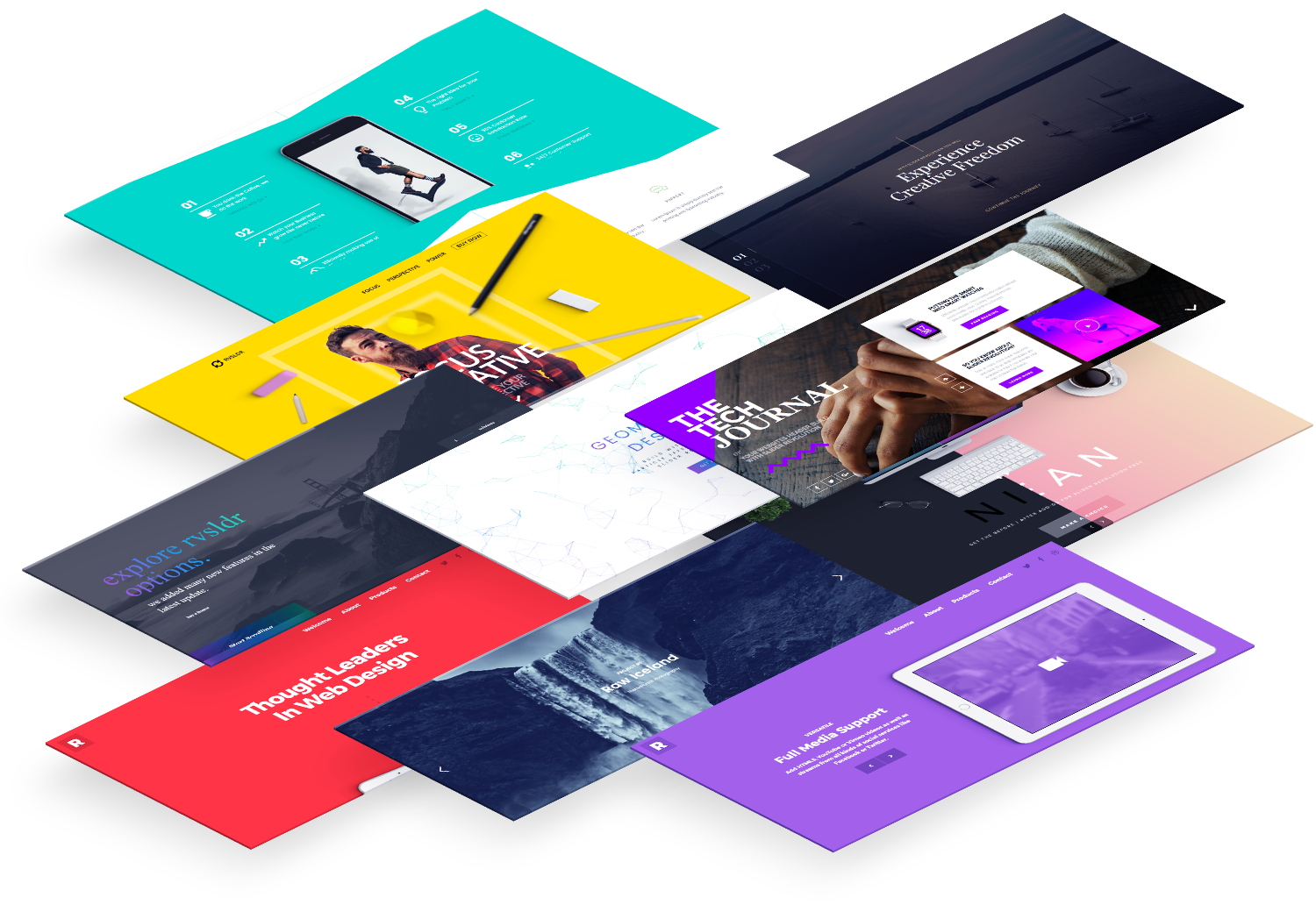 Alerts
Alerts are an efficient tool in working with highly dynamic assets such as cryptocurrencies. It is possible to define many different types of alerts, based on price, sentiment and volume changes. One set of alerts also includes those generated by our artificial intelligence algorithms which are continously learning from our news, pricing and other data.
Start exploring
Start exploring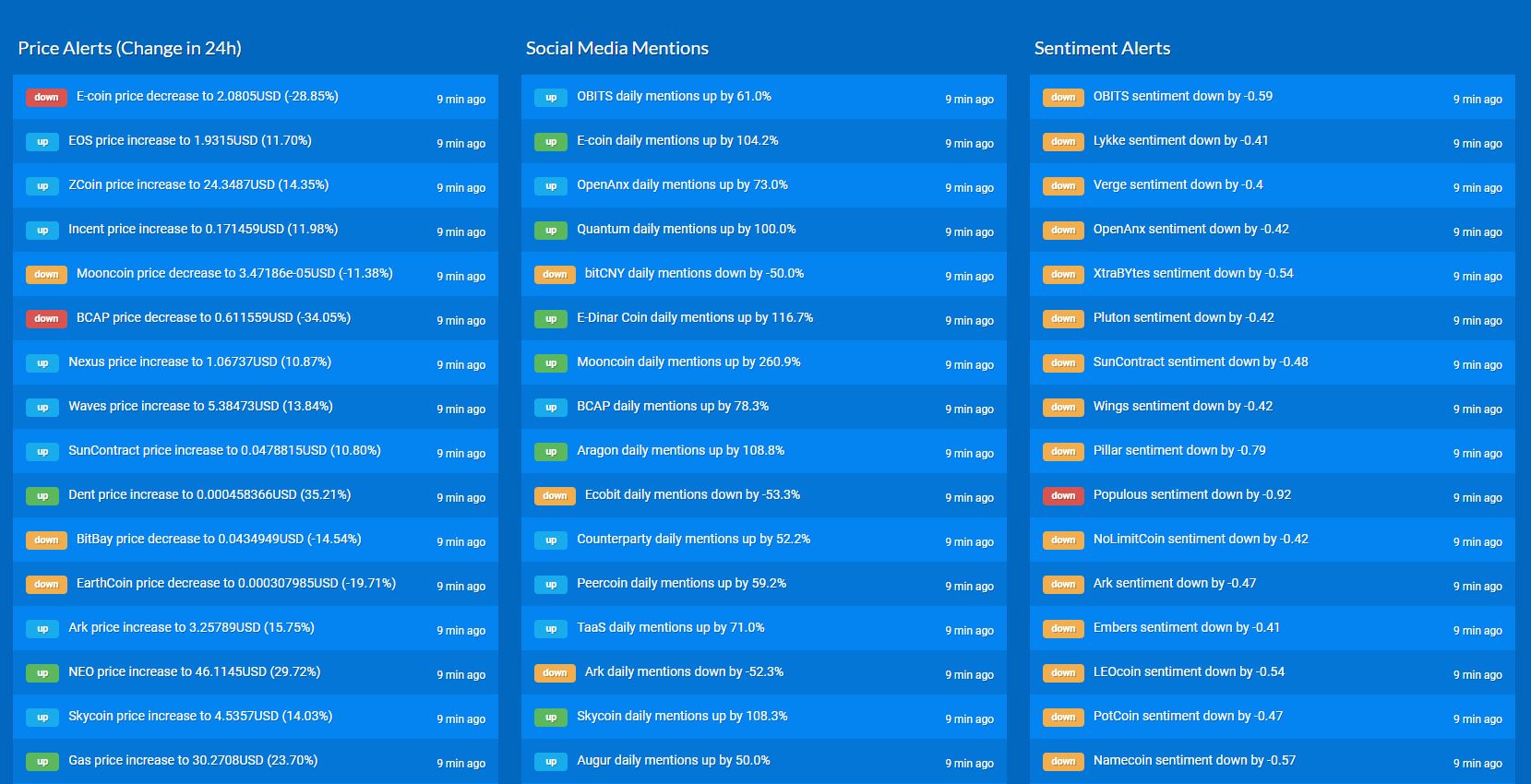 ICO Analytics
Home Page Layouts
We cover over 600+ ICOs and track social media posts about them. By calculating number of mentions and sentiment of these social media posts we can provide you with detailed information about how fast each ICO is gaining traction with its community both in terms of social media interest and gain in followers. BittsAnalytics can thus serve as crypto social media tracker tool for your ICOs analytics.
Comparison Analysis
One Page Demos
Often when one buys cryptocurrency the decision is made between two of them. To achieve a better informed decision it would be useful to have a tool for cryptocurrency analytics that compares two cryptocurrencies in terms of sentiment and buzz not only in the last few days but also trends in recent history. BittsAnalytics offers you an easy way to do just that.
Multidimensional Analysis
One Page Demos
In dealing with hundreds of cryptocurrencies it is often easier to spot interesting insights by plotting all of them on the same chart. By selecting different quantities on charts you can plot over 60 different scatter plot charts of the cryptocurrencies and easily spot interesting outliers or find interesting patterns. We will be soon adding historical animations to these charts to bring you even more of information edge in cryptocurrency markets.
Ico for Sentiment Analytics
News is one of the key drivers of cryptocurrencies prices and we regard our sentiment analytics module as one of the cornerstones of our solution. Using our sentiment analytics platform originally developed for finance field we are downloading, storing, annotating and analysing over 5 million news, blog posts and other documents each month. We are parsing in real-time this stream of documents for all topics related to cryptocurrencies, blockchain and similar themes and delivering them to BittsAnalytics users.
Start exploring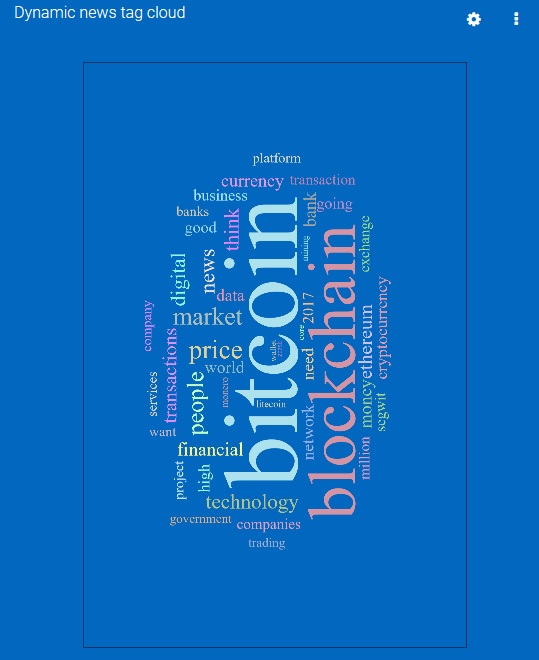 Personalized Portfolios
BittsAnalytics allows you to set up and track you own personalised portfolio. Our analytics tools allow you to easily us track the changes in portfolio value as well as individual cryptocurrencies of the portfolio. To better understand the historical performance of your personalized portfolio both on absolute and relative basis we provide you with advanced Performance Measurement tools (indicators include Sharpe ratio, Excess return, Sortino, Information ratio and many others).

Our Risk Management tools such as risk attribution will help you understand where are the main risks hidden in your portfolio. Risk metrics such as VaR and Maximum drawdown will help you understand possible losses in adverse scenarios.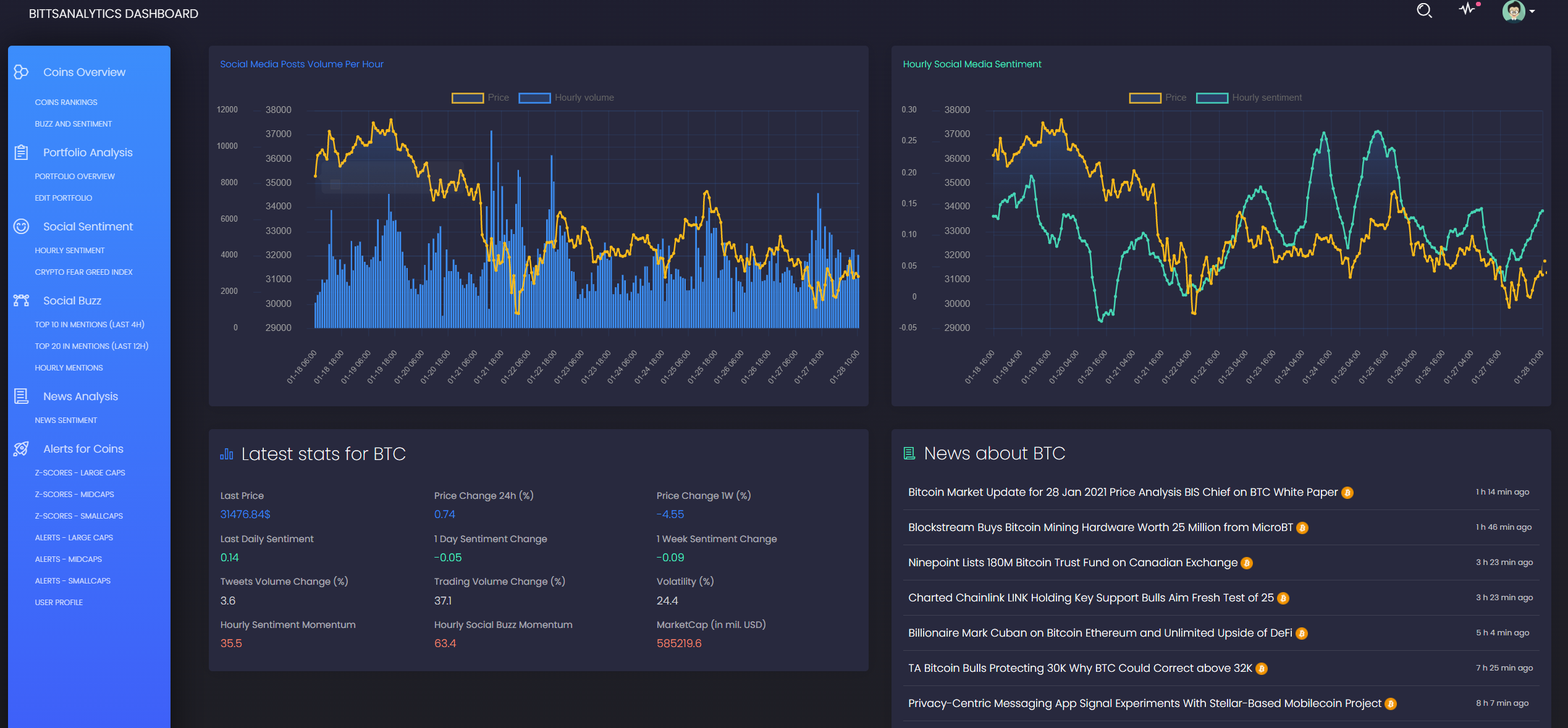 We have developed enterprise software for portfolio optimisation based on Mean CVaR method. Mean CVaR portfolio optimisation better captures fat tail events and is thus ideally suited for the volatile world of cryptocurrencies. Software also includes a powerful multiperiod portfolio optimisation framework for backtesting, construction and running of quantitative strategies. It uses deep learning to search for optimal parameters and allows construction of constant volatility, CVaR strategies.
Dynamic allocation between cryptocurrencies displays remarkable outperformance in the last few years even against demanding benchmarks like Ether and achieves this with lower risk. See our blog post for more information.
Quantitative strategies based on Mean CVaR portfolio optimisation are available as part of Advanced Subscription.
Start exploring
Customizations
Endless possibilites
Choose from over 20 different color themes of our BittsAnalytics platform.
Features
An overview of BittsAnalytics features through a selection of screenshots.
Bitts Analytics
Endless possibilites
BittsAnalytics is an innovative and comprehensive framework for Crypocurrency Analysis. It offers a wide variety of sophisticated functionalities and features in the areas of risk management, portfolio optimisation, performance measurement, sentiment analytics, digital assistant, rankings based on Z-scores, backtesting and construction of quantitative strategies and investment products, application of artificial intelligence and many others.
About Us
BittsAnalytics is an innovative data and analytics platform for cryptocurrencies built by a team of quants at company Alpha Quantum d.o.o.
Website: www.alpha-quantum.com
Company Contacts
Alpha Quantum
800 West El Camino Real, Suite 180
Mountain View, California 94040

Komenskega 40, 1000 Ljubljana
Slovenia (EU)