BittsAnalytics
Leading analytics platform for cryptocurrencies
Delivering crypto sentiment analytics since 2017
Trusted by many hedge funds and individual clients
Recent examples of social media sentiment and crypto price developments
Cooling down of sentiment on 2nd September 2020
Bitcoin sentiment that we calculate with machine learning from social media posts about Bitcoin cooled on 2nd September 2020 (see image below, from our platform). This often indicates higher risk for price downturn.

Bitcoin price correction followed within a day of sentiment cooling
After social media sentiment of Bitcoin cooled, its price decreased by 15% .
Cooling down of sentiment on 25-26th June 2019
Anotther example of bitcoin sentiment cooling down on major inflection point was on 25th-26th June 2019.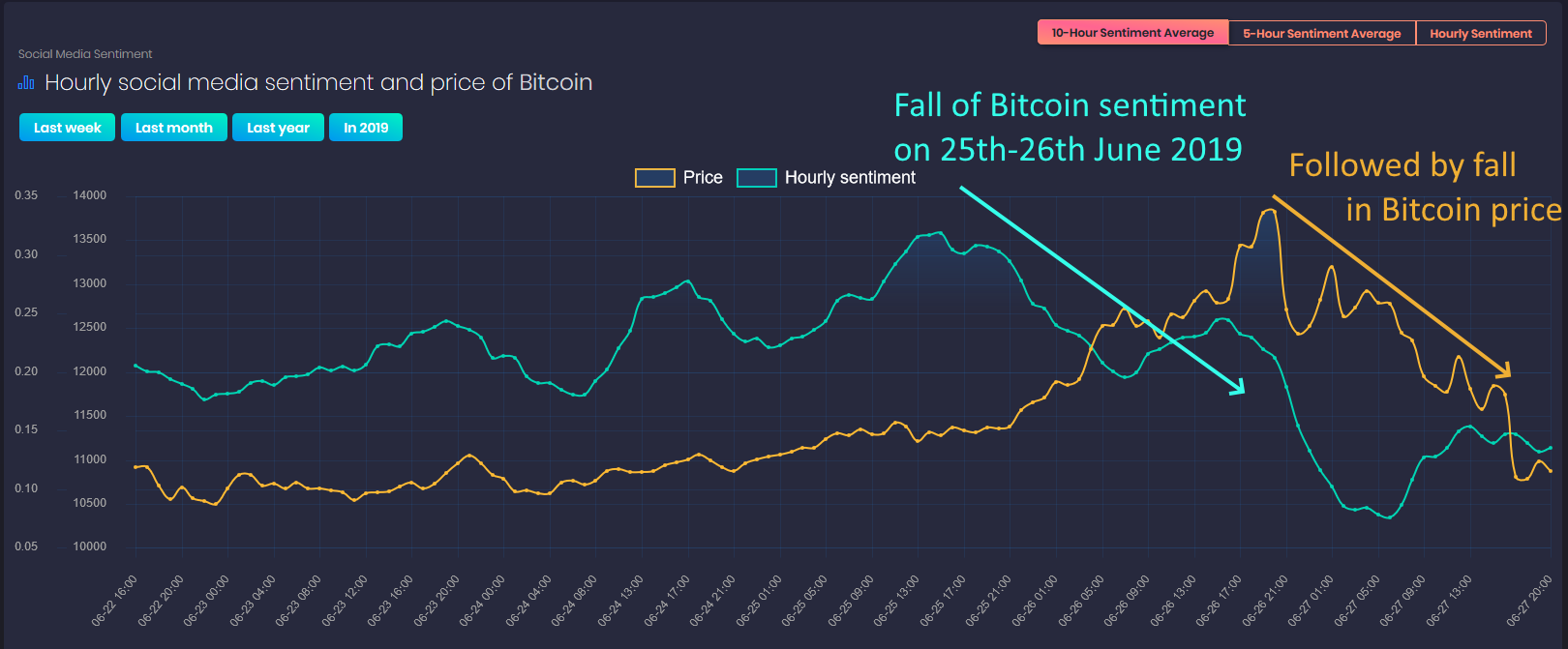 Bitcoin price correction followed within a day
After social media sentiment of Bitcoin cooled down, its price fell by almost 20%.
Why social media crypto sentiment?
We analyze millions of social media posts about cryptocurrencies each day. We use machine learning to determine sentiment polarity of social media posts to determine the average sentiment of all cryptocurrencies in real-time. These signals have proved very valuable in numerous cases so far. See past cases below:
Video of BittsAnalytics
Premium Set of Crypto Analytics Tools
Our platform gives you cutting edge analytical tools that are needed for staying on top of the cryptocurrency markets.

Each day, we analyze millions of social media posts and market-moving news, calculating buzz and sentiment about individual coins in real-time to give you an edge over your competition.

We built a sophisticated AI engine to automatically detect major chart patterns on hundreds of cryptocurrencies each day.

Enter your portfolio and use our risk management and historical simulations to get range estimate of potential profits and possible drawdowns.
Subscribe Now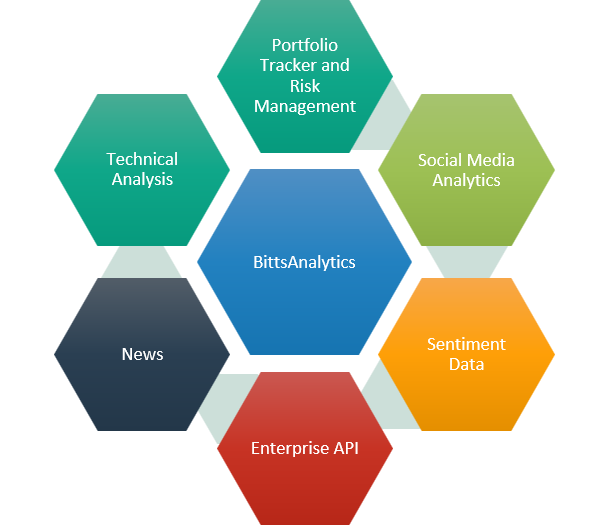 Portfolio Tracker
BittsAnalytics allows you to set up and track you own personalised portfolio. Our analytics tools allow you to easily us track the changes in portfolio value as well as individual cryptocurrencies of the portfolio.

To better understand the potential of your personalized portfolio we provide you with historical simulations.

Our Risk Management tools such as risk attribution will help you understand where are the main risks hidden in your portfolio. Risk metrics such as VaR and Maximum drawdown will help you understand possible losses in adverse scenarios.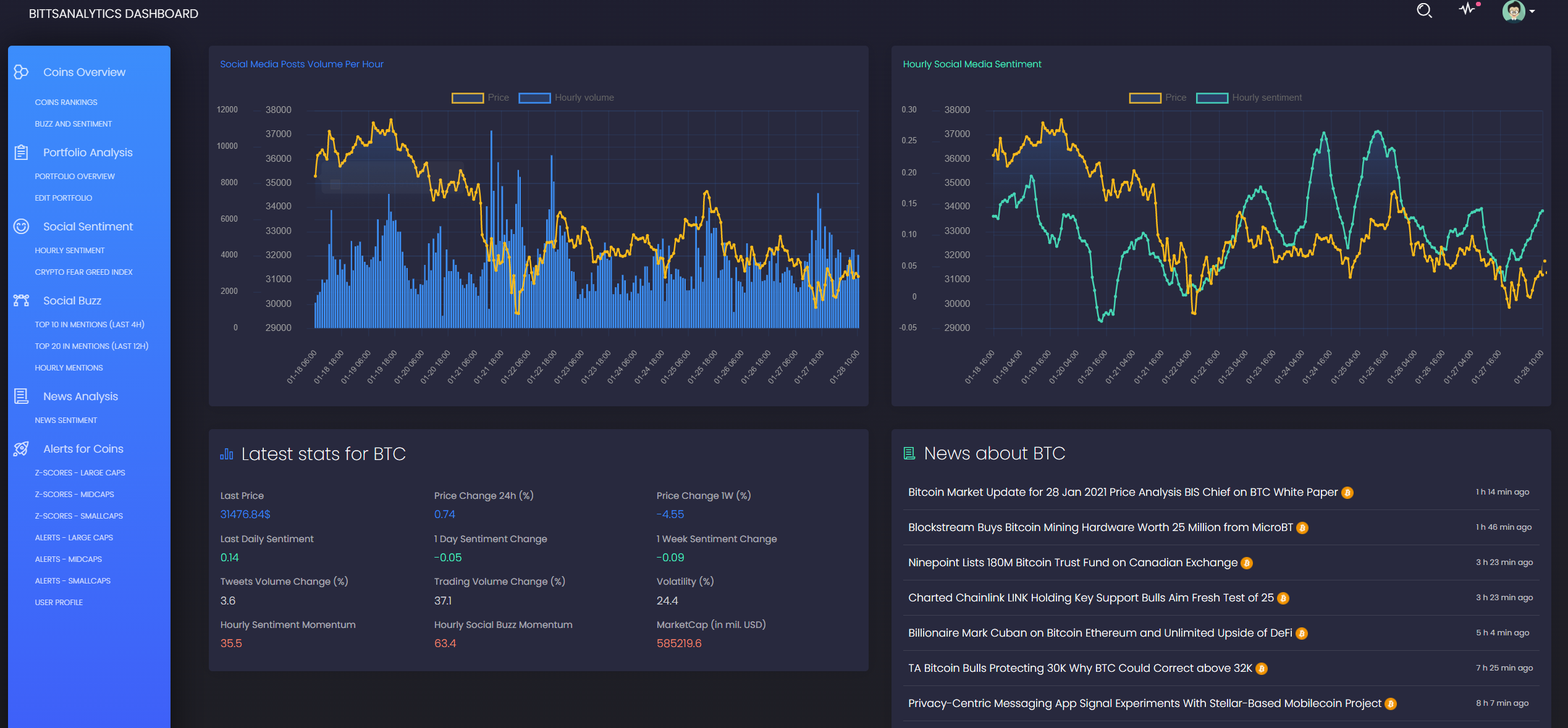 Social Media Mentions
Prices of many assets are influenced by the hype and number of social media mentions about them. Often it is very worthwile to know which cryptocurrencies are the main talk of the financial world or which are experiencing a sudden surge in interest. You can get this information with our BittsAnalytics.

We are calculating number of mentions for cryptocurrencies in social media to find surges in interest as well as deliver historical comparisons and analysis. BittsAnalytics can thus serve as a very effective crypto social media tracker of cryptocurrencies.
Start exploring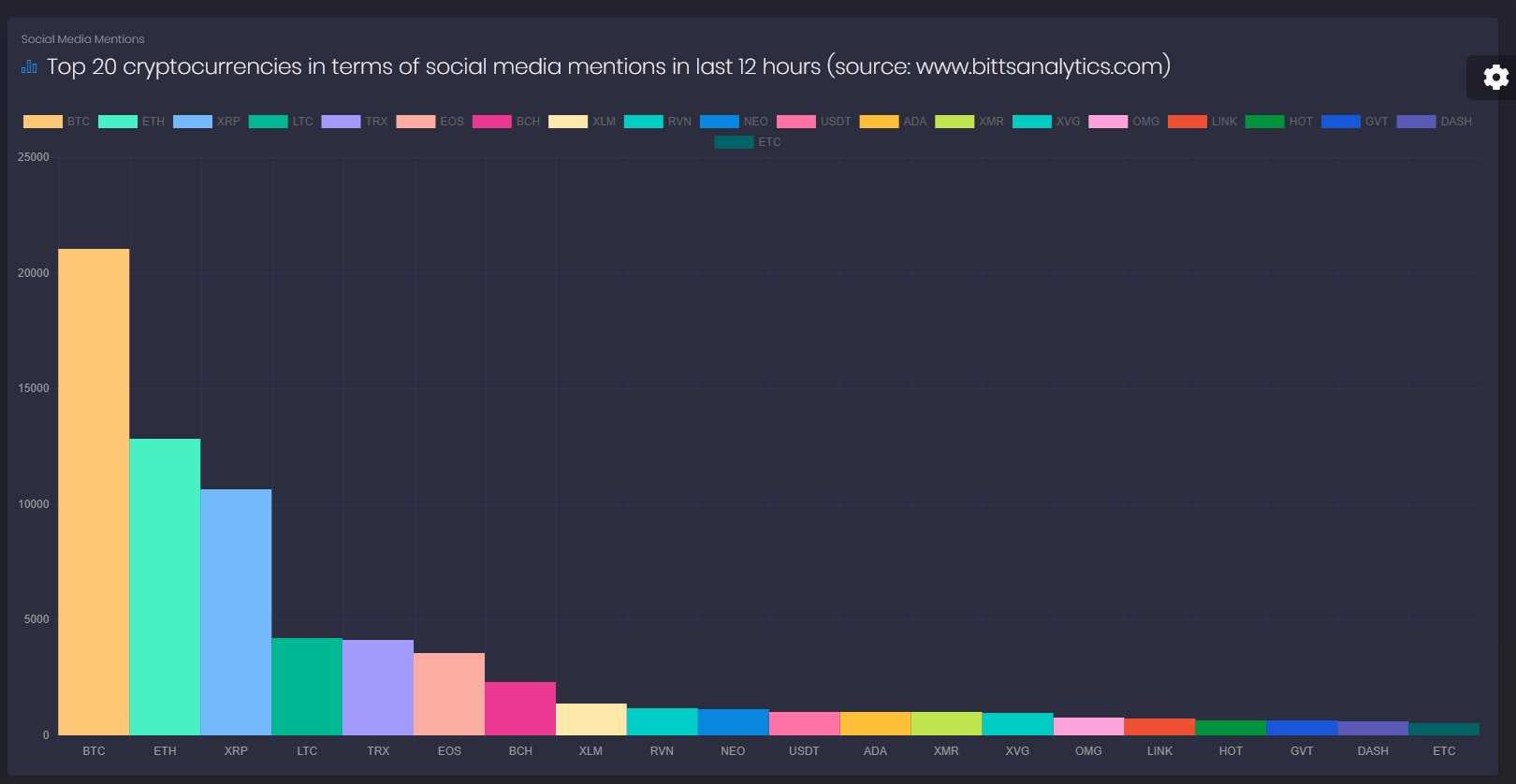 Crypto Sentiment Analysis
Prices of certain assets are importantly driven by the sentiment and hype about them. By subscribing to BittsAnalytics you can easily access cryptocurrency sentiment data in real-time and in historical chart. We provide you with Bitcoin Sentiment Index, Ethereum Sentiment Index and sentiment indices for all other cryptocurrencies.

We also provide you with powerful analytical tools so you can easily get important insights from our sentiment data. For examples of how real-time sentiment can serve as trading signals (what we call "BittsSignals") please visit our blog posts about BittsSignals. All of our sentiment data is also available as API.
Start exploring

Crypto Fear Index and Greed Index
Crypto like other investment markets is also susceptible to phases of greed and fear, resulting in large swings of prices. Compared to stocks, this phenomenon has been more pronounced in the digital assets markets. To help with assessing the various phases of the cryptocurrency markets we have developed fear index and greed index for bitcoin and other crypto coins. We have also implemented such indices for the total market.

Read more about performance of Bitcoin Sentiment Indicator in our blog: Bitcoin Sentiment Indicator
Start exploring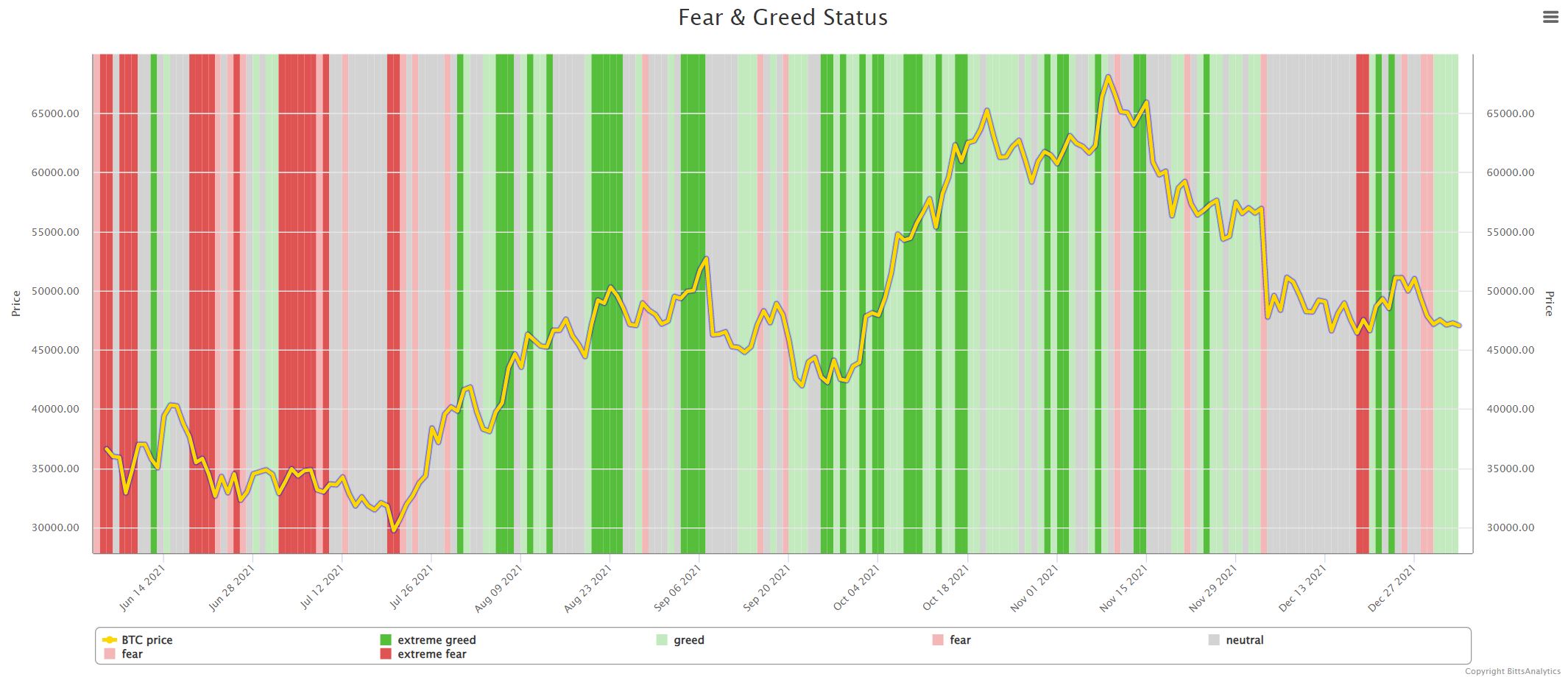 Cryptocurrency News
We are tracking thousands of news sources each day to find thousands of important and insightful news on cryptocurrencies in real-time. We categorize news per cryptocurrency so you can easily see all the important news about a given cryptocurrency published in real-time.

Each news is also tagged with sentiment, determined with AI models developed by our machine learning consulting, based on the text of the individual news. This gives you an additional way of searching for news and providing crypto news sentiment analysis about individual cryptocurrencies. In addition to top market capitalization coins, we also cover hundreds of others, including Litecoin, EOS, Binance Coin, Tether, Stellar, Cardano, Moneto, Dash, Tezos, Ontology, Maker, NEM and others.
Start exploring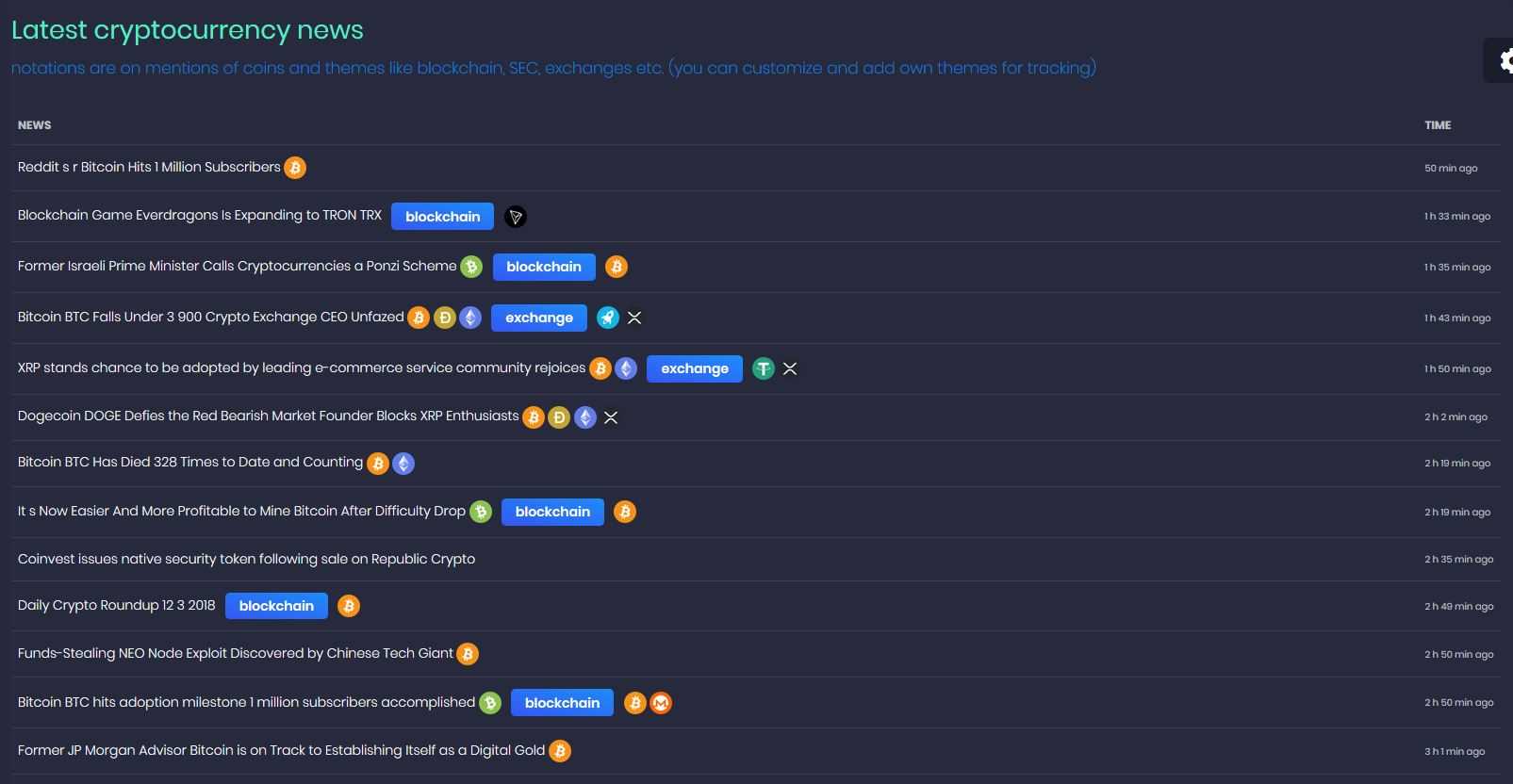 Cryptocurrency Technical Analysis
We have built an advanced system for automated detection of chart patterns and integrated it in our platform. If you do not want to lose your time each day looking for new chart patterns on thousands of cryptocurrencies but want to have it available each day automatically then BittsAnalytics platform is the right solution for you.

For patterns we will also provide you with advanced statistics such as risk reward ratios. If interested in bitcoin technical analysis or for thousands of other coins then BittsAnalytics is the right solution for you.
We are using machine learning to automatically detect complex chart patterns as part of our cryptocurrency technical analysis. Subscribe to our platform and let us do the chart patterns searching for you.
Subscribe Now
Cryptocurrency API
Why BittsAnalytics?
BittsAnalytics is a high-quality platform which provides real-time, reliable and unique data REST APIs for the cryptocurrency market. We specialise in providing data sets with high impact on prices of digital assets: social media sentiment and social media mentions. Our APIs are used by many hedge funds and individual clients.
Cryptocurrency historical data API
We have been one of the early providers of crypto social media tracker. This allows us to offer our clients long historical ranges for our data, which is essential for building investment strategy models of high quality. We do not offer crypto API tiers based on number of ticker coins. With our plan you get data for all coins tracked.
Use cases
Use cases include systematic trading (a lot of our clients are hedge funds), market making, big data and data science products, data visualization consulting services portfolio value tracking.
Data Delivery
Our social media cryptocurrency data is delivered to you on-demand using well-documented and simpleHTTP RESTful API in JSON format. You can use our data in various frameworks, including python, javascript, PHP, Microsoft Excel and on various operating systems, including Linux and Windows.

Access to data is granted upon purchase of our Advanced Plan, which provides you with your crypto api private key.
Free Crypto News API
One of our APIs that we offer for free is cryptocurrency news API. We track in real-time the most important stories related to Bitcoin, Ethereum, Ripple, Cardano, Tron and many other coins. Each news story is analysed by our machine learning models which determine sentiment polarity of texts.. This allows us to determine sentiment of news both on aggregate levels as well as for individual coins.

If you subscribe to one of our plans you obtain access to our news aggregator which contains Bitcoin news feed api, Ethereum news feed api and for other coins.
Dedicated Support
We are believers in customer satisfaction and will provide you with professional support with quick turnaround times.
150
main Cryptocurrencies
500.000+
Sentiment and other data points generated (per month)


100+ million
combinations of social media posts - cryptocurrencies analysed (per month)
Sentiment and Buzz of Cryptocurrencies
()
social media analytics data delayed by 24 hours, purchase plan for real-time access
Company Contacts
Alpha Quantum
Franz-Joseph-Str.11
Munich
Germany